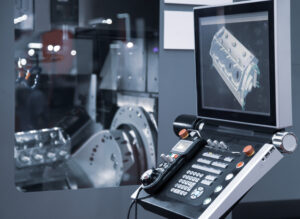 Computer-Controlled Manufacturing
Taking your parts from prototype to production with precision and speed
Versatility and repeatability for diverse applications
Turning, drilling and
multi-axis milling
Extensive material options and fast lead times
Precision tolerances to
+/-0.001 inches
Industry-Leading CNC Machining Capabilities
3-Axis Milling
3-axis CNC milling involves cutting along three linear axes: left-to-right, back-and-forth, up-and-down. Easy to program and operate, 3-axis mills are effective for simple geometric designs and can be used for a wide variety of parts.
5-Axis Milling
5-axis CNC milling expands the design potential of the machining process by adding two axes of movement. With no need to reposition between operations, 5-axis milling allows for faster production of more complex parts.
CNC Turning
CNC turning involves the application of a cutting tool to a rotating blank workpiece in order to shape a desired part. During production, the workpiece spins on vertical or horizontal axes while the automated lathe moves around it. Precise, repeatable and scalable, CNC turning is ideal for creating parts with simple geometries in rounded or cylindrical shapes.
Extensive Material Options and Industry-Best Lead Times
CNC machining offers incredible versatility in material selection, with a wide range of plastics and metals to choose from.
| Technology | Materials | Lead Time |
| --- | --- | --- |
| CNC Machining | Plastic: ABS, Acetal (Delrin), Nylon 6, Nylon 30%GF, HDPE, PEEK, PC, PTFE (Teflon), PVC, UHMW Metal: Aluminum (2024, 6061, 6082, 7050, 7075), Stainless Steel (303, 304, 316, 17-4, 420), Other Steel (Mild Steel, Alloy Steel, Tool Steel), Other Metals (Brass, Copper, Titanium) | Eight to 10 business days for orders of <50 parts |
Typical CNC Machining Uses
Rapid CNC Prototyping
Create prototypes with high dimensional accuracy and excellent mechanical properties from a variety of metals and plastics leveraging our state-of-the-art CNC mills and lathes.
Custom Manufacturing
Produce precision parts from a wide range of materials, achieving tight tolerances, rapid production times and high repeatability.
Tooling and Fixtures
Manufacture tooling and fixtures to securely hold and position workpieces during manufacturing processes, ensuring accuracy and repeatability.
AI-Driven Instant Quoting and Design Analysis, Powered by Fast Radius

Looking for instant quotes on your parts with comprehensive design for manufacturability (DFM) feedback, accurate lead times and detailed order tracking? Our online portal, powered by Fast Radius, is an industry-leading platform that puts manufacturing intelligence at every designer's fingertips. Upload your design file at the link below to get started!
STEP 1
Upload
Upload your CAD file and choose your manufacturing process and materials.
STEP 2
Optimize
Explore DFM checks to understand and learn how to fix any design issues.
STEP 3
Quote
Move into quoting instantly without losing any design insights.
STEP 4
Order
Place your order, selecting desired quantities and shipping times.
STEP 5
Track
From manufacturing to delivery, track your order every step of the way.
Get an instant quote for your parts today.